BLACK FRIDAY SALES
Everything in the shop is 20% off!
Discount taken off automatically in your cart.
Our Products Contain
No Parabens
No SLS
No SLES
No Proplyene Glycol
No Mineral Oil
All Orders Ship Within 1-2 Business Days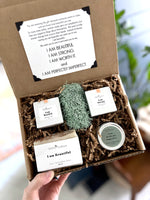 Our Beautiful Gift Set
So many times in our society women feel like they are not pretty enough or not good enough. On the outside they may seem like they have it all together at times, but inside they have a voice telling them that they are not worth it or they are not beautiful enough. We want to help change that inner voice. This box is to remind them that they are beautiful. They are strong. They are worth it and they are perfectly imperfect. Let the person you love and care about know how beautiful you think they are.
Shop